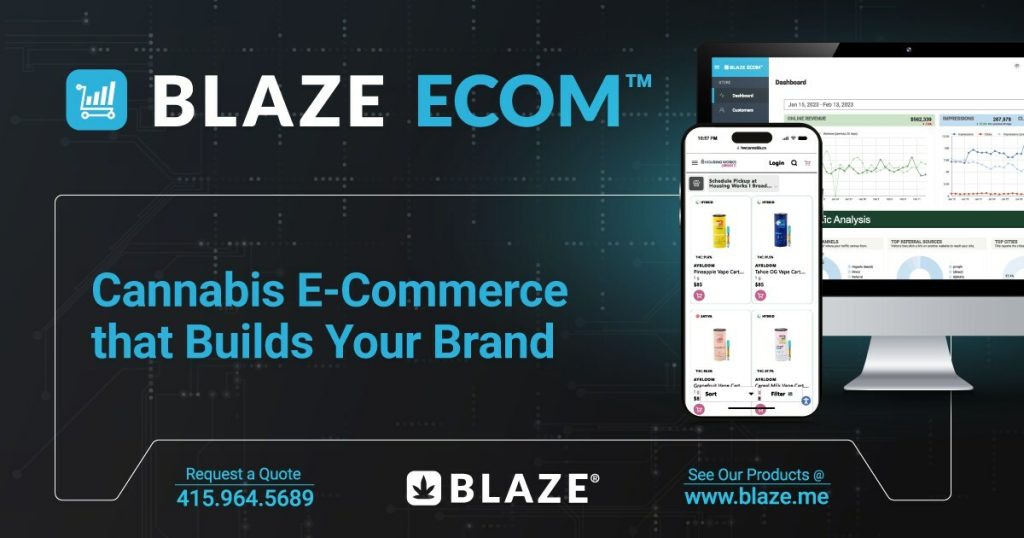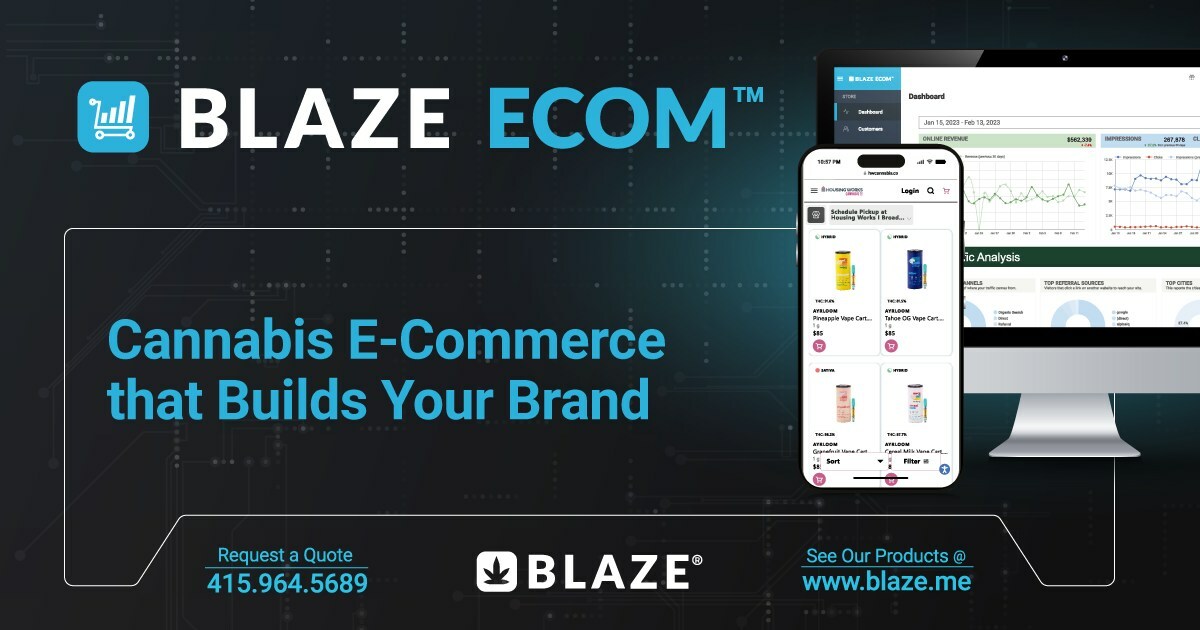 BLAZE ECOM™ brings you powerful tools that will help you reach new online customers with powerful SEO optimization for online menus, integrated payments, and robust branding that stands out from the competition.
You have full control over the look and feel of your online store, which products are listed and pricing, and the check-out experience. Orders placed online are transferred directly to the BLAZE POS system so that they can be fulfilled quickly and efficiently.
The important part is you are in control. BLAZE ECOM is not just another iframe tool. You'll be able to track all customer data and scale your growth.
Your inventory will be updated regularly making sure that your online menu is correct and no disappointments happen when customers select a product that is no longer available.
Reach new online customers
If you're a retailer, you know how important it is to reach new customers. 
BLAZE ECOM brings robust SEO power to your online menu. When locals or tourists search for cannabis stores near me they will find your customized online store menu at the top of the results.
BLAZE ECOM also has the option to create an app for your brand. Your customers can download the app and you can market to them via push notifications saving hundreds or thousands of dollars per month on SMS fees.
Giving these shoppers access to your online storefront with BLAZE ECOM, will allow them to comfortably purchase for delivery or pickup from wherever they are.
Customizable and branded to your business
When building your online store or BLAZE ECOM mobile app, you want to make sure that it is customized and branded to your business.
Customers like to feel like they are shopping at a local store; therefore, making the site look and feel like a real store will help them do this. Customers want to see their favorite menu items displayed on the homepage or in an area with easy access from anywhere on the site (i.e., social media links).
Your customers also want to pay the way that they do in any other retail setting. BLAZE ECOM is fully integrated with BLAZEPAY and has robust pin debit and ACH options to make pre-payment for delivery or pick up a breeze.
Easy to access on any device
BLAZE ECOM is easy to access on any device. Customers can use your app on mobile or web browser on any device. They can also search for products and view menus, making it simple for them to make the best choices for their needs.
BLAZE ECOM can help you reach new customers while providing a convenient way for current customers to shop when they aren't in store.
There are many ways that BLAZE ECOM can help you reach new customers. Remote marketing is the most popular of these, since it allows customers to shop online even when they aren't in store. This can be helpful for current customers as well; if a customer needs to order something and pick it up later, they can do so through your e-commerce platform.
Customers who want to order products online but have them delivered directly to their home or office will also benefit from this feature. With BLAZE POS partner integrations, your business won't miss out on any opportunity for increased revenue
Take Control of Your Online Store
You're in control of the menu and pricing. This means that you can change prices at any time without having to seek approval from an outside source. You can also add or remove items from your store anytime. If your BLAZE Insights data shows there is a product on the menu that isn't selling as much as other items, take it off for now until demand increases again.
Orders are transferred directly to the POS system to be fulfilled efficiently
Once the order is confirmed, it is transferred directly to the POS system for processing. This ensures that your inventory is updated in real time and that you are able to fulfill orders efficiently and accurately.
With BLAZE ECOM, you can take advantage of the benefits of e-commerce without having to worry about managing your own website or server. Our system is designed to integrate seamlessly with your BLAZE POS system so that orders can be fulfilled quickly and efficiently.
Take control of your online sales engine today.