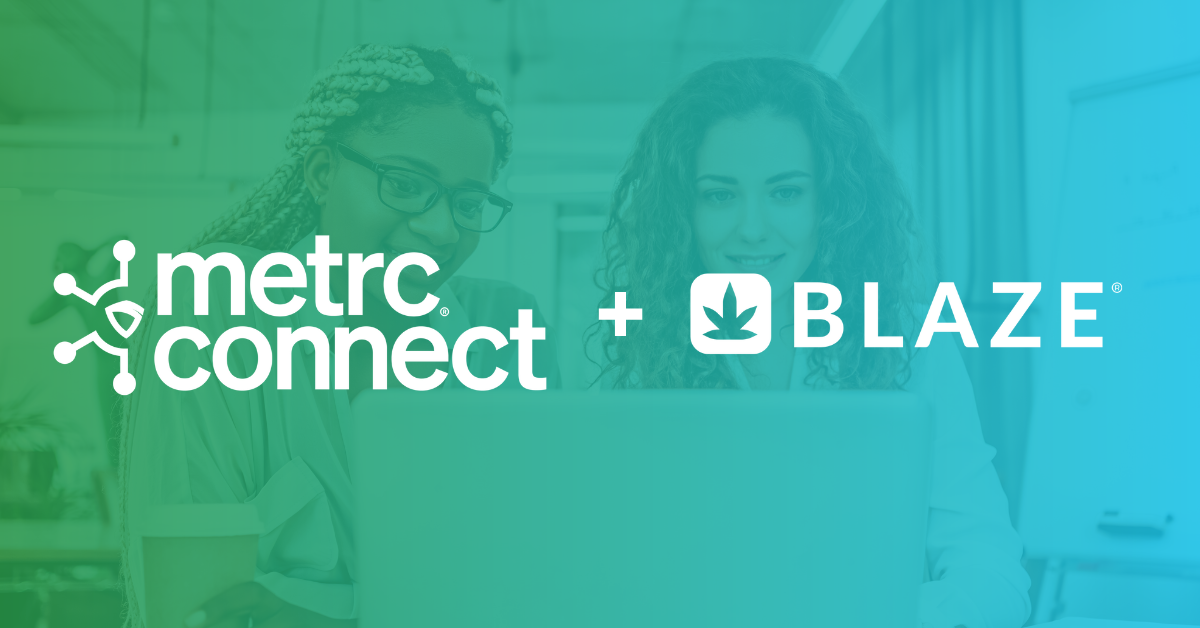 Cannabis retailers using BLAZE will benefit from a new and improved compliance integration with Metrc. Integrating with Metrc Connect allows BLAZE-powered dispensaries with a more stable and robust API-environment that offers more control and transparency for cannabis retailers.
What is Metrc Connect?
Metrc Connect is an enhanced open application programming interface (API) ̶ designed using industry feedback – to create more robust and efficient interactions with the Metrc reporting system. This powerful integration provides point-of-sale integrators access to advanced features and functionality.
The integration with BLAZE means that retailers can easily exchange data between their POS and the state's track-and-trace system by reducing the amount of manual data inputs and task uploads. This will improve all Metrc users' experience and simplify compliance reporting. The additional endpoint will also allow state medical registries to validate patient purchase limits at checkout to prevent overselling and a potential compliance violation.
Benefits of Metrc Connect
One of the key benefits of the BLAZE and Metrc Connect integration is increased efficiencies created by spending less time on manual data entry. This has proven to be a common pain point experienced by cannabis retailers and removes the risk of human errors that are inherent with this type of reporting process.
BLAZE has always prioritized deep integrations with other cannabis software vendors and the new integration with Metrc Connect allows even more visibility and control. We have already started the process to upgrade our integration to the new endpoints and will continue to do so further enhancing the BLAZE and Metrc integration. Some of the recently developed Metrc features and functionality include:
More robust endpoints
Self-service access to a web-based, data insights driven portal
Enhanced monitoring through real-time dashboard views and notifications
Self-generate vendor API keys
Real-time control of account information and user roles
Returning IDs on POST requests
Additional premium features, such as webhooks subscriptions
Expanded API Support access
Metrc User Exchange
The introduction of Metrc Connect is a clear indicator that Metrc is actively working to improve the user experience for licensed cannabis operators. They are hosting Metrc User Exchange events in a few cities around the U.S. to educate retailers on their system. These events are designed to give Metrc users an opportunity to connect with Metrc leadership, product experts, and local peers in a casual setting. The goal is to improve system skills, provide valued Metrc system features and functionality feedback, and foster deeper relationships within the industry.
BLAZE will be at the Metrc User Exchange in Detroit, Michigan to provide more insight into how our best-in-class POS system works with Metrc Connect. If you are interested in connecting with us at the event, please reach out to us to schedule a meeting.
Some of the upcoming events are listed below:
The Metrc User Exchange events are complimentary to attend for licensed operators but are subject to venue capacity. Below is a brief overview of the agenda so you can plan accordingly.
General session: Metrc leadership will give a 1-hour presentation to provide important updates about the rapidly advancing industry, along with our plans to offer innovative technology and functionality to better support your licensed business.
Breakout sessions: Based on facility type, this dedicated time will be spent in smaller groups to learn about Metrc best practices, new functionality, and more. With each session customized to state regulations and Metrc configurations, each group will also have the opportunity to share direct feedback to help us in enhancing our current services and solutions.
Education & networking session: Prior to the conclusion of the event, this time will be spent winding down, enjoying dinner and conversation, and meeting more of your industry peers and the Metrc team, including interactive stations where you can learn more about Metrc Support, additional Metrc training opportunities, RFID, and more.
If you have additional questions regarding the Metrc User Exchange events, take some time to review their FAQs that can provide useful answers on who can attend, accommodations, parking, and breakout sessions.
A New Approach to Metrc Compliance
We are pleased to see that Metrc is taking new inclusive approach to better alleviate some of the burden on operators when it comes to compliance reporting. Their leadership team is making a concerted effort to listen to cultivators, manufacturers, retailers, and software partners to inform their development.
The integration between BLAZE and Metrc Connect represents a major step forward for the cannabis industry. By providing retailers with a powerful, easy-to-use integration is helping to drive efficiency and compliance across the industry. Whether you are a small, single-location retailer or a large, multi-state operator, the BLAZE Metrc Connect integration is a powerful tool that can help you stay compliant and simplify reporting.