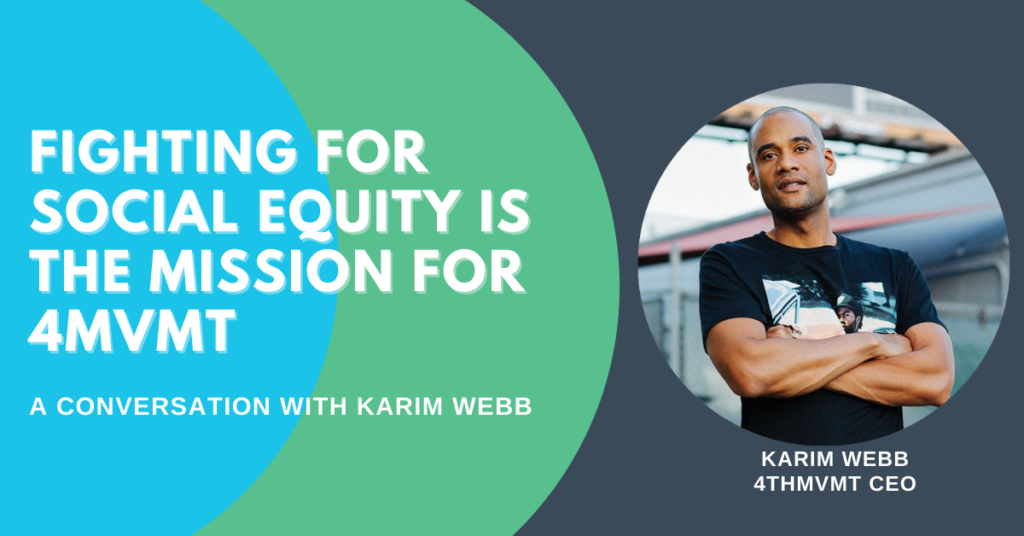 When the city of Los Angeles decided to issue 200 social equity licenses, they looked to a local community leader who had a reputation for earnestly helping people of color in South L.A. Karim Webb had successfully launched multiple Buffalo Wild Wings restaurants, including one in the heart of Leimert Park on Crenshaw Blvd. This motivated him to become actively involved in improving his community and earned him recognition with city officials. After being asked to attend a hearing regarding these new licenses by a city council member, he was compelled to ensure that social equity applicants from South L.A. were being treated fairly and were prepared for a future in the cannabis industry.
Karim formed 4thMVMT with some of his most trusted colleagues in order to provide capital and training to black entrepreneurs. These are people from South L.A. who would otherwise be unable to overcome the high barrier of entry required to compete in the cannabis space. 4thMVMT was granted 21 social equity licenses in Los Angeles and began vetting over 200 applicants to find those individuals who had the tenacity, ambition, and discipline to run a successful business. 
Every member of the 4thMVMT tribe must undergo trauma-informed, self-discovery, and personal development before even beginning their leadership and management training. This is the type of foundational growth and change that builds trust and instills confidence in these entrepreneurs.
The 4thMVMT tribe began as a group of 4 in 2018, currently stands at 25, and will continue to grow as more states take a stronger stance for social equity in cannabis. Karim Webb believes deeply in human potential and as a result, 4thMVMT has given a once-in-a-lifetime opportunity to black entrepreneurs who believe in themselves and encourage others to do the same. For many who have been born into circumstances beyond their control, hope is something that can seem unattainable. This way of thinking is something that 4thMVMT is working hard to change. 
We were very fortunate to have the opportunity to speak with Karim Webb about social equity in cannabis, the formation of 4thMVMT, their goals, challenges, and plans for the future. His insights are not only profound but powerful and it's easy to see why he is such a dynamic leader who has the ability to make a long-lasting impact on the cannabis industry. 
Watch as BLAZE sales leader, Jack Lappin, engages Karim Webb in a no-nonsense conversation about social equity in the cannabis industry, the formation of 4thMVMT, the challenges black entrepreneurs face, and their plans for expansion in the future.
After watching our interview, you can tell that changing peoples lives isn't just a goal for Karim Webb, it's a privilege. He makes mention of surprising one of his Sixty Four and Hope dispensary operators with a big billboard right outside of her store. This is just one of the many examples of the belief he has in these people to rise up and overcome. It's a heart-warming moment that inspires us to continue supporting social equity license holders in their journey to success.
We at BLAZE are proud to be service provider and partner for Sixty Four and Hope. We will continue to support social equity cannabis businesses and use our platform to highlight their stories. If you'd like to learn more about 4thMVMT, visit their website and be sure to stop by Sixty Four and Hope if you're in Los Angeles to pick up some quality cannabis.