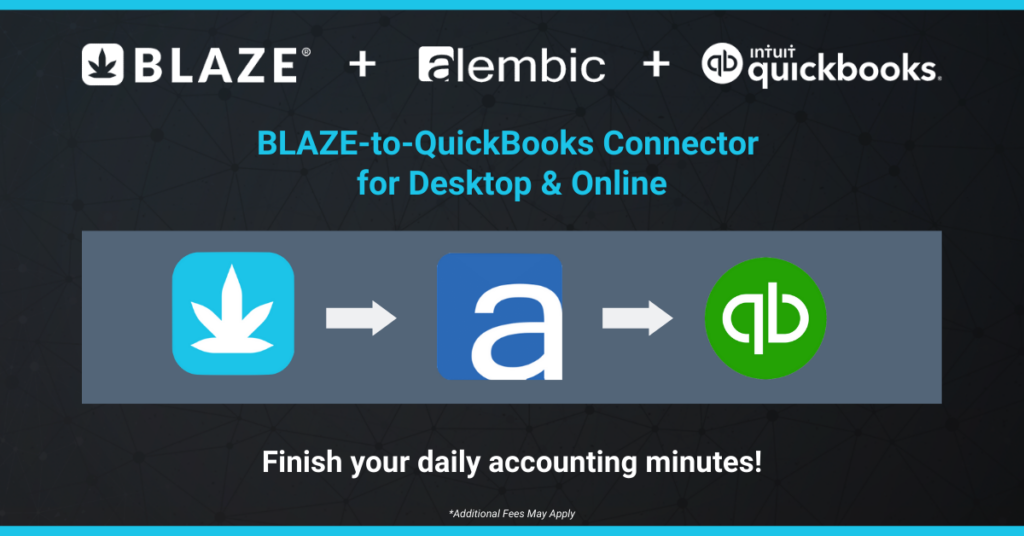 Cannabis operators know the struggles of finding software that meets their business needs. Most accounting software refuses to work in the cannabis industry due to cannabis still being federally illegal. QuickBooks has emerged as one of the reliable solutions for cannabis businesses to handle their payroll and accounting. For cannabis operators, QuickBooks has proved to be invaluable for handling their needs. However, there has been a lack of integration between accounting software and their cannabis software. 
Our customers have asked us to integrate with QuickBooks, further making BLAZE software a better tech stack. To do this, we've partnered with Alembic Computer Services Inc. (ACSI). With this integration, utilizing your software and managing your payroll and accounting needs is easier than ever. Let's dive into what our newest integration can do for you.
Preferred QuickBooks Connection
With the BLAZE Alembic QuickBooks connector, creating accounting activity only takes a matter of minutes. The seamless integration speeds up workload and perfectly integrates with your existing BLAZE software.
Easier Accounting
The BLAZE to QuickBooks integration gives you the power to create summaries for daily transactions for sales, costs of goods and services sold, and bills for inventory receipts. This makes keeping track of your info and managing data easier than ever. 
Flexible Mapping
Our QuickBooks integration has flexible mapping capabilities so changes can be kept to a minimum. These mapping include General Ledger Accounts, QuickBooks Items to Control Revenue & COGS and Inventory based on Product Types. This integration even allows you to distinguish revenue between adult and medical-use. Ultimately, this provides you with greater clarity, control, and accuracy when handling your accounting needs.
If you're interested in learning more about our partnership with ACSI and our integration with QuickBooks, please don't hesitate to reach out. Our team is happy to connect you with ASCI team for a free personalized demo!  If you're ready, you can find our Add-On Request form here.