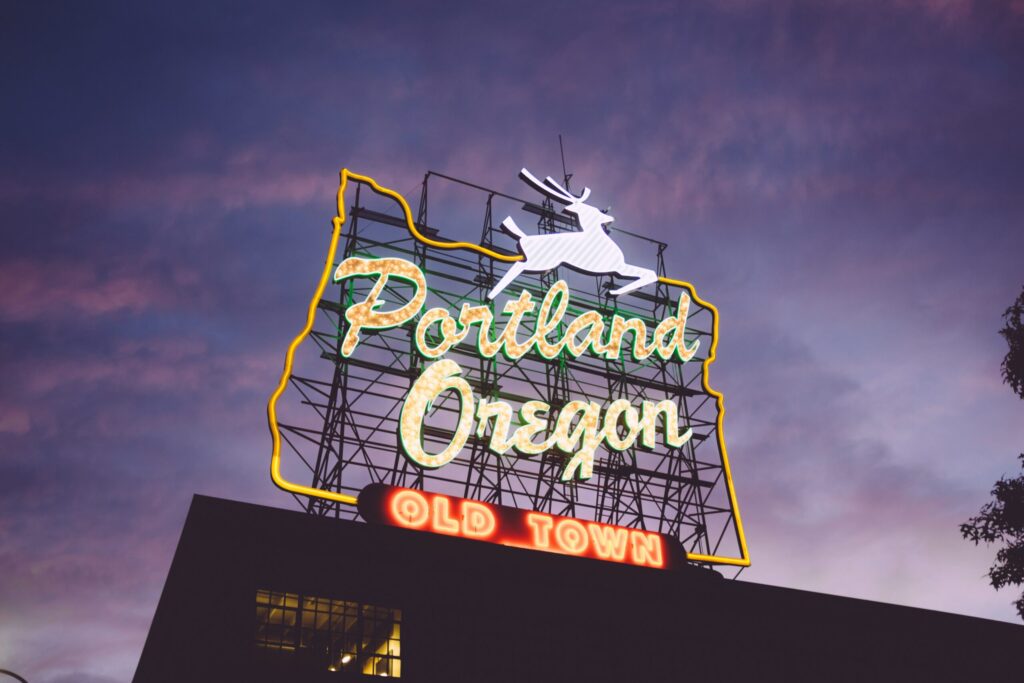 Oregon fully legalized marijuana in 2015 and recreational sales took off just two years later. If you're wondering how to open a dispensary in Oregon or if now is the right time, then your friends at BLAZE have got you covered. Oregon offers tremendous opportunities for budding cannabis entrepreneurs. We'll help you navigate the do's and don'ts of opening a dispensary in Oregon and tell you everything you need to know to get started!
Obtaining a license to operate, finding a location, and investing in a powerful dispensary POS system are just a few steps you should take to open a dispensary in Oregon. In this article, we will go over:
Application and License Fees in Oregon
Day-to-day Business Operations
Marketing and Promotion
Banking
Each city operates differently and there exist different regulations on how you can operate. If you're wondering where to start, this is the perfect place. Read on to learn how to open a dispensary in Oregon. 
Licensing
To open a dispensary in Oregon, you must first apply then pay the non-refundable application and licensing fees. Make sure you check the laws and regulations in your municipality as well. This will save your dispensary irreplaceable time and money. It also determines if your dispensary can fully operate in the city you're applying to.
The application fee for an annual license costs $500 for marijuana retail stores (brick and mortar). Once granted a license, you'll then pay an annual licensing fee depending on the type of business you are building. This licensing fee can range up to $4,000 for retailers. The fee fluctuates based on the type of business you want to establish. So if you want to open a cannabis microbusiness, the license fee is waived and the annual fee is cut in half. For indoor cultivators, the cost is broken down into tiers by the square foot. For a full breakdown check out the graph below. 
| | | | |
| --- | --- | --- | --- |
| License Type | Application Fee | License Fee | Total Due |
| Retail Dispensary/Processor/Wholesaler | $250 | $4,750 | $5,000 |
| Recreational Producer | $250 | $1,000-$5,750 | $1,250-6,000 |
| Medical Dispensary/Processor | $500 | $3,500 | $4,000 |
Location
Opening a dispensary in Oregon has some challenges. Real estate is crucial in having a successful dispensary, but it's not always as easy as just picking a place. Not every landlord is comfortable renting out their space for a cannabis operation. Additionally, many states have strict regulations about where a dispensary can be located, such as proximity to schools (1,000 feet in Oregon), daycares, and other dispensaries. Some cities can also elect not to adopt ordinances that grant access to cannabis store-fronts, meaning cannabis delivery is only acceptable. 
In Oregon, dispensary rent costs are about the same as the median commercial property rate at around $26 per square foot. 
For this reason, rent in a city like Portland can cost your dispensary an annual range of $200,000 – $300,000 for a 2,000 square foot retail space. For a city like Salem, you could look to spend $150,000 – $200,000 per year on rent. On top of this, you need to consider the cost of things like renovations, furniture, hardware, security, and wages. 
Business Operations
The cost of doing business in Oregon is constantly shifting and changing, but one thing is certain, it can be expensive. Costs such as wages, security, and a reliable dispensary POS system are considerable and consistent investments. Let's get into the ongoing cost of operating a dispensary. 
Wages
A well-trained and professional dispensary staff is indispensable. Depending on your size and market need, you need to estimate how many budtenders and staff you should hire. According to data from Salary.com, the average salary of a budtender in Portland is about 20 per hour. The average salary ranges from $37,000, but can go up as much as the high $40k's. If your dispensary sets a budget at $260,000 for wages, this means you can reasonably afford up to 7 staff members at your dispensary. 
Dispensary POS Software
Unique obstacles and opportunities in the cannabis industry require a point of sales (POS) system tailored for a dispensary. These cannabis POS systems should help manage your inventory, transactions, and compliance with your state. Since Oregon is such an active and growing market, a solid dispensary POS is an asset for new dispensaries. 
Systems such as BLAZE offer a full suite of dispensary services. Features such as seed-to-sale software and cannabis distribution software add more value to your dispensary. Based in Los Angeles, BLAZE is a valuable software that understands the ins and outs of opening a dispensary in Oregon. With constantly updated software with real-time data, BLAZE lets retailers worry less about compliance and regulations and more about sales. 
Depending on your dispensary needs, cannabis software can range from $300 – $600 a month, plus additional fees for hardware such as iPads, iPhones, and POS equipment. 
Security
Cannabis dispensaries are at constant risk. Having professional and active security is a necessary investment to keep your dispensary safe from break-ins and robberies. Surveillance hardware such as cameras and monitors not only work to deter crime but maintain compliance. Each dispensary must employ a security agent or agency. Additionally, there must be a dedicated security room with security hardware such as security cameras and monitors. Other security measures include possessing high-resolution images; a perimeter and duress alarm; vaults, safes, and security boxes; and backup data for cameras and equipment. 
Dispensary security in Oregon can cost around $60,000 annually. 
For a complete breakdown of Oregon dispensary security laws, read more here.
Product
If you're a cannabis retailer that is not vertically integrated, your dispensary will need to purchase wholesale cannabis products. Oregon has lush weather and is considered the heartland of marijuana growers in the United States. 
According to data from MJBizDaily.com, the demand for marijuana in Oregon has increased exponentially. Those who want to open a dispensary in Massachusetts can look to pay the following prices for wholesale flower:
| | |
| --- | --- |
| Indoor Premium | Indoor Average |
| $2,400 per lb | $1,500 per lb |
These figures just show the average prices of bud per pound by some of Oregon cannabis cultivators. If you want to know how to open a dispensary in Oregon while getting the best wholesale deals that fit your budget, the most effective thing you can do is network. Get with local groups, such as The Chamber of Commerce, and find growers that fit your needs, values, and brand.
Marketing and Promotion
Although cannabis marketing can be just as effective as in any other industry, there are still some challenges. Platforms such as Google and Facebook don't allow for cannabis advertising. And in states where recreational cannabis is legal, there are strict regulations on how dispensaries can promote themselves. However, this is hardly an obstacle and should push you to try more creative channels to market your brand. A good rule of thumb is to dedicate 3-5% of your yearly gross revenue to marketing, advertising, and promotion. 
In Massachusetts, licensees must abide by the following advertising regulations:
Advertising through television, internet, and radio, unless 85% of the subject's audience or presumed to be 21 years or older.
No advertising on billboards or public signage. 
Labeling of marijuana products not sold as marijuana products.
For a full list of Oregon cannabis marketing regulations, click here. 
To determine an accurate marketing budget, check out the Licensing table and deduce 3-5% of your yearly gross revenue. This number is what you should spend on marketing your dispensary. 
Banking
Before you open a dispensary in Oregon, you must secure safe and legal banking. Because it's not yet legal on the federal level, many banks tend to shy away from doing business with a dispensary. This is why some dispensaries are cash only or do business with local credit unions. 
There are around fifty to sixty banks that do business with cannabis dispensaries. When working to open a dispensary in Oregon, it is important to do your research on what bank or credit union fits your needs and how they are specifically suited to grow your dispensary.
Conclusion
Opening up a dispensary is tedious, but worth it. The cannabis industry is growing rapidly and cannabis use is on the rise in every adult demographic. That's why now is  the perfect time to open a dispensary. 
Dispensaries that use BLAZE cannabis POS software have a major advantage. Our seed-to-sale software enables vertical integration that can elevate your dispensary to new heights. BLAZE retail software takes the worry out of inventory management and reporting. And powerful integrations make sure you're covered on all fronts – from cultivation to compliance, and even delivery. Book a demo with BLAZE today if you'd like to open a dispensary in the simplest way possible.