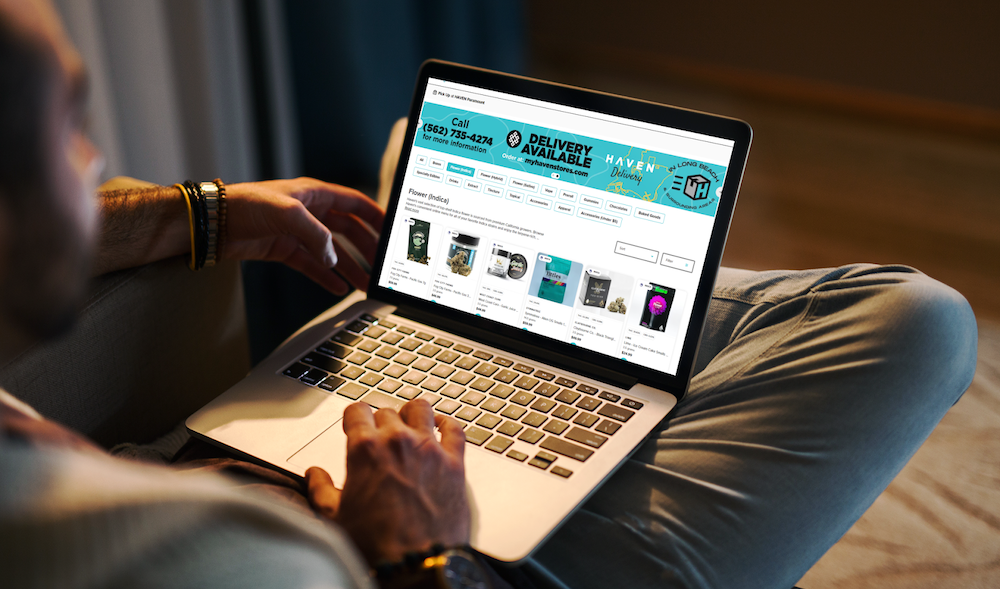 Introduction
With the rise of cannabis e-commerce, dispensaries have increased their revenue by reaching new customers through organic search traffic, referrals, and targeted marketing campaigns. With this increased ability to meet consumers anywhere, dispensaries see huge increases in sales. Here are 5 ways that cannabis e-commerce has helped boost dispensary revenue:
SEO Optimized Online Menu
During the pandemic lockdown, cannabis consumers were forced to shop online rather than in-store. Cannabis e-commerce was suddenly a must-have rather than a nice-to-have. However, dispensaries were presented with the challenge of how to stand out online. Marketplaces provided a short-term iframe solution but offered very little SEO value for dispensaries. This is why native e-commerce has become the preferred way for cannabis dispensaries to sell online.
Native e-commerce websites offer several benefits that marketplaces can't match. Firstly, cannabis retailers can customize their domain using pre-built, no-code layouts. This is a game changer and allows your store to live forever on your website.
Additionally, native e-commerce provides static URLs for every product, brand, and category on your online menu. This presents the opportunity to create an optimized title tag and meta description on each page of your site so that search engines can recognize what it is about when someone searches for it.
When a customer searches for certain products or strains of cannabis, you want to be one of the first results that pops up on their screen. This will help bring in more customers, who can purchase from your dispensary online!
Branded Website themes
When shopping online, cannabis consumers have high standards for the purchasing experience. Your online store should be easy to navigate while also being visually appealing. Dispensaries interested in building their brand should utilize a cannabis e-commerce solution that can reflect their identity. Opt for a native e-commerce provider that offers branded website themes that show your logos, fonts, colors, photos, and even videos. This elevates the online shopping experience and makes it memorable for your customers.
It's also essential that your branded e-commerce website be mobile-responsive so that customers can order from anywhere via their smartphones. The mobile experience is really where your branded website gives you a competitive edge and makes your menu stand out from the competition. It's also easier to find your on Google when they search for cannabis products in their area!
One additional perk that dispensaries can take advantage of is scrolling banners on their cannabis e-commerce website. This can serve as valuable advertising space to promote new products, daily discounts, upcoming sales, cashless payments, or delivery. Many retailers use this valuable ad space as a revenue stream from brands seeking to advertise their new products.
Online Sales Analytics
One of the most significant value adds from native e-commerce is the ability to understand online shopping trends. The online sales analytics feature allows you to monitor your e-commerce performance and determine what changes need to be made to increase revenue. You can use this information to improve your customer experience, menu items, or marketing campaigns.
Marketplace e-commerce solutions offer very limited sales data, making it difficult to stand out since you are one of many dispensaries on their website. This forces retailers into pricing wars with their competition, reducing profit margins and hurting their bottom line. A native cannabis e-commerce platform can integrate with powerful analytics tools like your dispensary POS or Google Analytics to provide detailed reporting on traffic sources, sell-through rates, and popular products. This gives you the power to make data-driven decisions to optimize your online inventory and marketing budget.
Integrated Online Payments
Cannabis retailers have always found it challenging to find a payment provider that supports pre-paid orders online. Fortunately, BLAZE ECOM™ allows dispensaries to accept online payments through your website. Not only is it a great way to increase sales by enabling customers to purchase products from the convenience of their homes, but it's also integrated with your POS system so there's no manual reconciliation.
This is a great way to increase revenue because customers are not limited by the amount of cash in their wallets. They're free to fill their cart with all the products they want, which typically increases the average order value by 35% or more. Once a new customer links their bank account, it's incredibly convenient for them to place future orders. One-click to add items to the cart, one click to checkout, and one click to pay. It's really that simple.
Loyalty Programs
One of the major benefits of using a cannabis e-commerce website that integrates with your dispensary POS system is that loyalty rewards can be redeemed at checkout. Customers can earn loyalty points with every purchase, which encourages them to return to your online store to save on their next order. This is extremely effective in retaining new customers and makes online sales a lucrative revenue source.
Loyalty programs also present an opportunity for gathering valuable customer data: You can use this information to send targeted offers and promotions based on what they've purchased in the past. This will help keep them interested in your products while increasing sales overall!
Loyalty programs are usually offered as either part of an app or through email and SMS marketing. You may even consider combining both methods into one cohesive program if that makes sense for your business model; but remember to limit the frequency of these campaigns to avoid overwhelming customers who might otherwise enjoy using them regularly!
Conclusion
We hope this post has helped you to learn more about how using e-commerce can help your dispensary increase its revenue. As we've seen, it's a powerful tool that can help dispensaries reach new customers and keep them returning for more!
With the introduction of BLAZE ECOM™, cannabis retailers can provide a seamless online shopping experience for their customers while saving money and increasing online sales. Reach out to our sales team for a personalized walk-through of our powerful cannabis e-commerce platform.