In today's digital age, having an e-commerce website is essential for any business that wants to succeed. This is especially true for cannabis retailers, which have traditionally used marketplaces to showcase their products and facilitate transactions. However, marketplaces do not benefit the retailer but rather the consumer, who can shop multiple dispensaries to find the best deal.
Dispensaries must take ownership of their online sales using their website to attract and retain customers. One of the critical decisions you'll need to make when building an e-commerce website is whether to use an iframe solution or a customizable native website theme. In this blog post, we'll explore the advantages of using customizable native website themes for e-commerce.
One of the biggest advantages of using a customizable e-commerce website theme is that it allows you to maintain brand consistency across your website. By customizing the theme to match your brand's colors, fonts, and overall aesthetic, you can create a cohesive look and feel that reflects your brand's values and personality. This can help you build brand recognition and trust, which can be invaluable in the highly competitive industry of cannabis retail.
Most e-commerce solutions available to cannabis dispensaries look the same and offer minimal customization or require hiring a website designer. Standing out is imperative; being limited to just a logo on your online menu doesn't build brand affinity. BLAZE ECOM™ provides the freedom and flexibility to make your e-commerce website an immersive shopping experience that creates loyal customers.
""We needed an e-commerce solution that reflected our unique brand aesthetic, and BLAZE ECOM™ was the perfect solution. Our online store stands out and provides a seamless checkout experience that has increased customer loyalty." – Rooz Vahdatpour, Owner of Tropicanna Dispensary 
Flexibility and Customization
Another advantage of using a customizable e-commerce website theme is its flexibility and customization. Unlike preset themes, which come with fixed features and design elements, customizable themes allow you to tailor your website to your specific needs and preferences. This means you can add or remove features, modify the layout, and make other changes that will help you create a unique and memorable online shopping experience for your customers.
BLAZE ECOM™ offers retailers the option to use a scrolling carousel at the top of the menu. This can promote new or popular products, discounts and deals, and additional services such as delivery or cashless payment methods.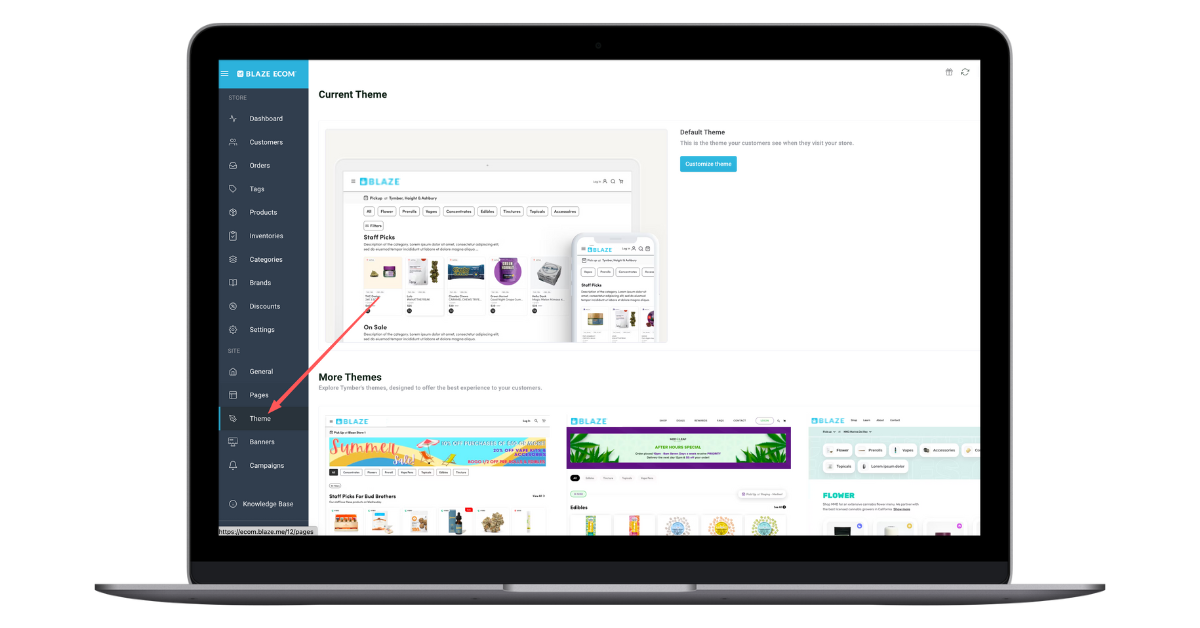 Finally, customizable website themes can help you improve the user experience on your e-commerce website. By optimizing the layout, navigation, and overall design of your website, you can make it easier for customers to find what they're looking for and complete their purchases. This can help reduce bounce rates, increase conversions, and drive more sales for your business.
BLAZE ECOM™ premium themes allow retailers to create custom categories for featured products, brands, or deals. Additionally, cannabis retailers can change the order of menu categories from most popular to least popular. This, combined with advanced filtering, makes it easy for cannabis novices and connoisseurs to find products that work for them.
Making it easy for customers to place orders is paramount to retaining their business. This is why more dispensaries are investing in a mobile application to connect directly with customers. Checkout in a mobile app is seamless and customers receive order updates as well as accrue loyalty rewards for future purchases.
In conclusion, using a customizable website theme is a smart choice for cannabis retailers that want to create a strong online presence and drive sales. By maintaining brand consistency, enjoying greater customization, and improving the user experience, dispensaries can create a website that truly represents their brand and bolsters customer affinity. So why settle for a pre-made theme when you can create a custom website that sets your e-commerce business apart from the competition? See how by booking a free demo of BLAZE ECOM™ below!