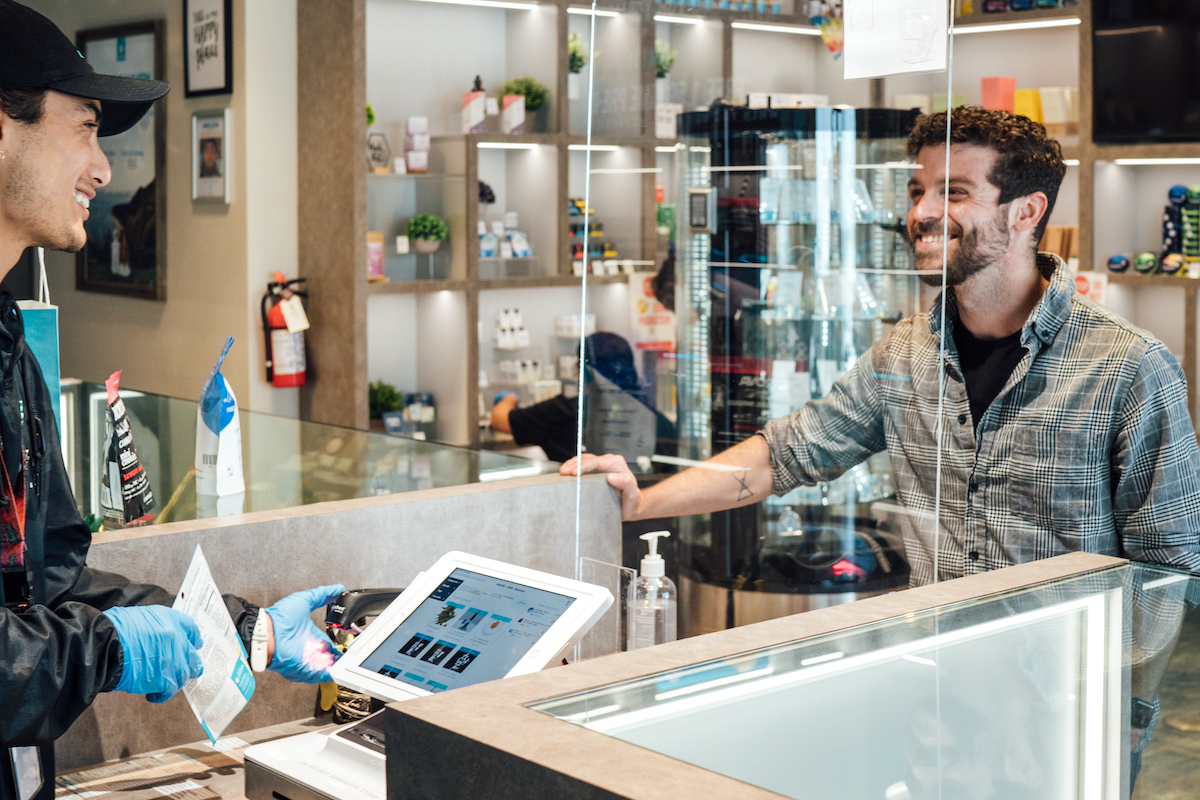 Providing a seamless and convenient shopping experience in cannabis retail is key to customer satisfaction. Discounts and promotions are great ways to build brand loyalty and attract first-time customers. However, running multiple discounts at once can be challenging for budtenders to track so having the ability to auto-apply promotions is a great way to reduce transaction times while ensuring customers receive the correct amount off of their order.
BLAZE recently implemented a new feature that auto-applies discounts at checkout both in-store and online. This simple, yet powerful tool can significantly elevate the customer's shopping experience and boost your business.
How it Works
Auto-apply promotions will automatically be applied at the cart level once the criteria are met. Dispensaries can customize their promotions based on a variety of criteria including:
Cart Order Minimum
First-Time Customer
Number Minimum Order
By Category
By Product
By Product Tag
By Vendor
One from Category
One from Product
One from Product Tag
One from Vendor
"By" will apply for the promotion multiple times throughout the order if the rules are met. "One from" will apply for the promotion only once, even if multiple items In the cart qualify.
If you want to override an auto-apply promotion, you can easily remove it from the cart to add a different promotion. Auto-apply promotions will apply to all orders in BLAZE RETAIL, BLAZE ECOM, BLAZE APPS, and Weedmaps.
The auto-applied promotion can be seen highlighted in green in the checkout summary in BLAZE Retail under Total.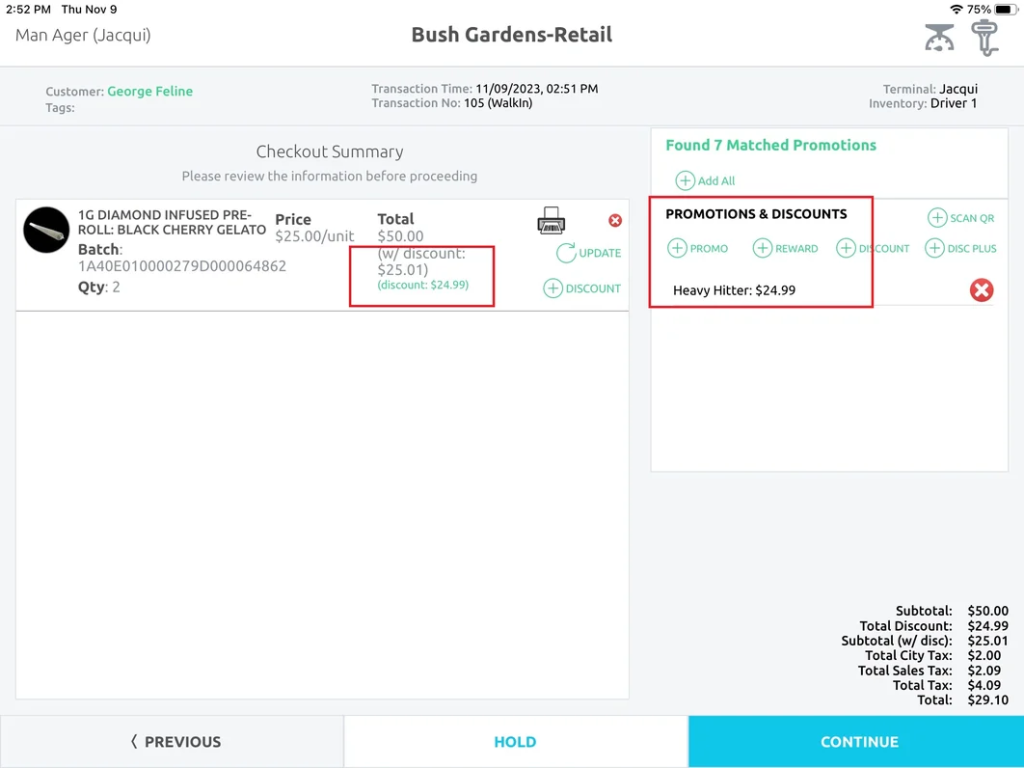 The auto-applied promotion can be viewed by customers in the BLAZE ECOM checkout screen under the Total Discount line item. This will be reflected in their checkout total whether they choose pickup or delivery.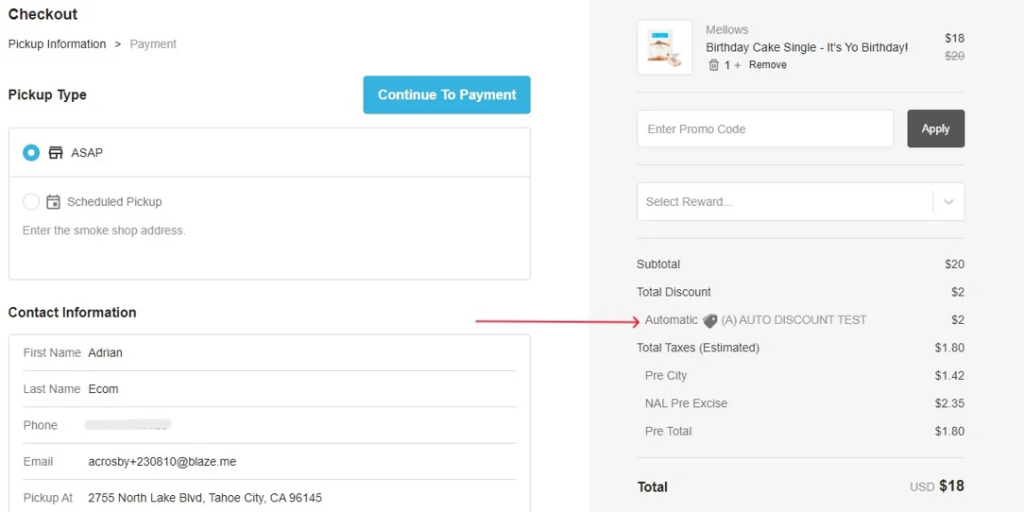 Benefits of Auto-Apply Discounts
The ability to auto-apply promotions offers several benefits to both dispensary staff and customers. Let's discuss a few that will have the most impact on the day-to-day operations of a cannabis retailer.
They Reduce Wait Times
By auto-applying discounts at checkout, the time-consuming process of manually applying coupons or promotional codes is eliminated. This leads to a quicker and more efficient checkout process, reducing wait times and keeping the customer flow smooth and uninterrupted.
They Increase Customer Satisfaction
Everyone loves a good deal. When discounts are automatically applied, customers feel valued and appreciated. This not only improves their overall shopping experience but also increases their likelihood of returning to your store.
They Boost Sales
Automatic discounts can also serve as an incentive for customers to purchase more items. They might be more willing to add additional items to their cart if they know a discount will be applied at checkout. Training your budtenders to upsell based on your current discount offerings is key to the success of boosting sales.
They Give You a Competitive Advantage
In today's competitive cannabis retail environment, offering automatic discounts at checkout will set your business apart from the rest. It shows that your shop not only values its customers but is also committed to providing a hassle-free shopping experience.
This new feature is a win-win for both businesses and customers. It not only enhances the shopping experience but can also lead to increased sales and customer loyalty. Reach out to customer support or request a demo today to learn more about this new powerful feature.