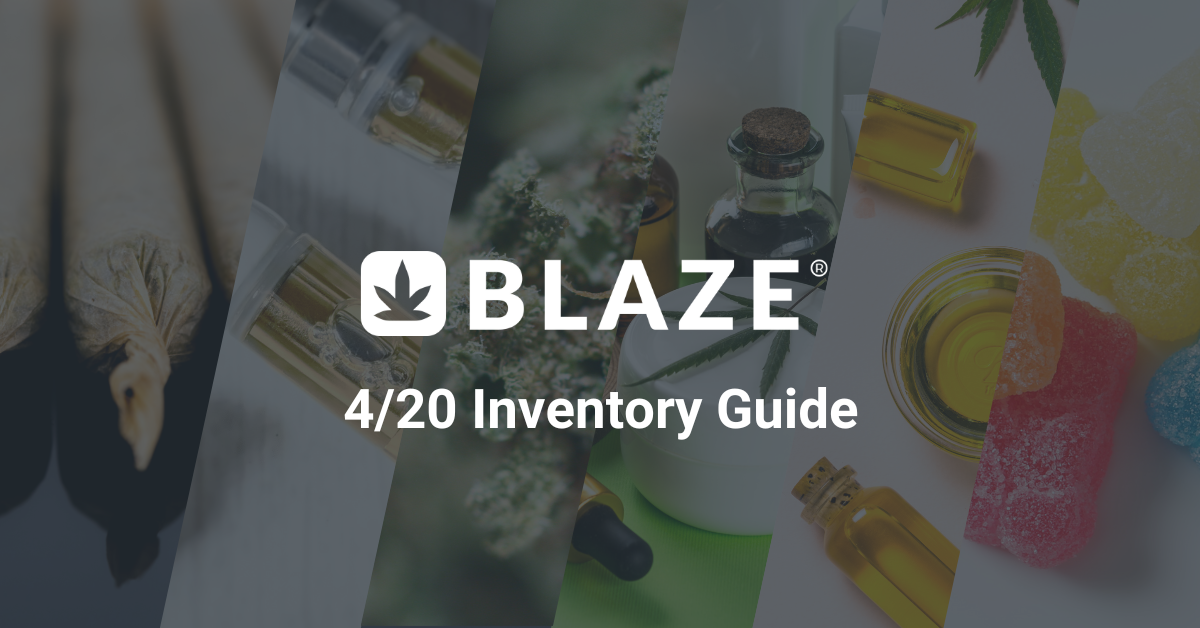 4/20 is almost here and it's time to prepare. As the biggest cannabis holiday of the year, you need to make sure your inventory is ready to keep up with the demand.
We've put together a guide on how to get your inventory ready for 4/20. Follow the steps to make sure your stocked up with the best inventory to capitalize on the increase in traffic.
Inventory Ordering
The best way to plan your inventory is to look back at the last two years of 4/20 sales; including two days leading up to the holiday. Look at what has sold well for you in the past and hunt for sneaky categories that may have a small uptick each year to plan accordingly. Each year the way people ingest cannabis changes too. Are there new products that you can include in your 4/20 buy?
Using BLAZE Insights to sort your data is a great way to perfect your 4/20 inventory purchasing.
Pro Tip: If you need to enable Insights or upgrade to Insights Advanced, schedule a demo with the team here.
Reports to run:
Sales by category

Sales by brand

Sales by the hour
Inventory Integrity
Selling in-store, online and possibly multiple locations can make maintaining a consistent inventory across all of the sales channels challenging. Especially on the biggest buying day of the year. There are few things more frustrating to customers than placing an online order only to find out it's out of stock when they arrive to pick up the order.
BLAZE ECOM™ provides an easy way for retailers to add customized categories to their online menu to feature certain products at the top. This, along with a customizable advertising carousel offers ample opportunity to call attention to the deals, products, and services you want to highlight.
Pro Tip: Use BLAZE ECOM to manage your online store and never experience inventory integrity issues again. Click here to get a demo.
Plan Pricing, Discounts, and Rewards
After you've ordered your inventory based on past sales data you will need to plan and create discounts, promotions, and rewards for newcomers and loyal clientele. Placing discounts on products you've noticed aren't moving quickly is a great way to free up shelf space. Identify popular categories you know will see an uptick on 4/20 and make sure to design promotions to feature them.
BLAZE Retail makes it easy to complete all of these tasks quickly and with our inventory Master Catalog you can manage these activities for multiple stores at once.
When working with vendors it's important to remember what your brand values. Stock up on inventory from vendors that align with your brand's mission so your customers understand it's about more than just selling weed. Work with brands that prioritize diversity, sustainability, or provide locally-sourced products.
Take care in curating your inventory to appeal to all levels of cannabis consumers. From the experienced cannabis connoisseur to the novice first-timer, there should be something for everyone to build brand loyalty.
Don't leave money on the table this 4/20.
The BLAZE suite of products are ready to save you time and maximize your profits this holiday season.Follow