A great cannabis POS system (point of sale) is the bedrock of any successful dispensary. In 2023, it has never been more important to have a high-quality POS system in your store. However, with more software options than ever, it can be hard to decide on the one that's best for your dispensary. We'll explore some of the non-negotiable features your POS system must have and some important things to look for to determine whether the POS you're looking into is ready to handle the challenges of running in a busy dispensary.
Choosing a Dispensary POS System for 2023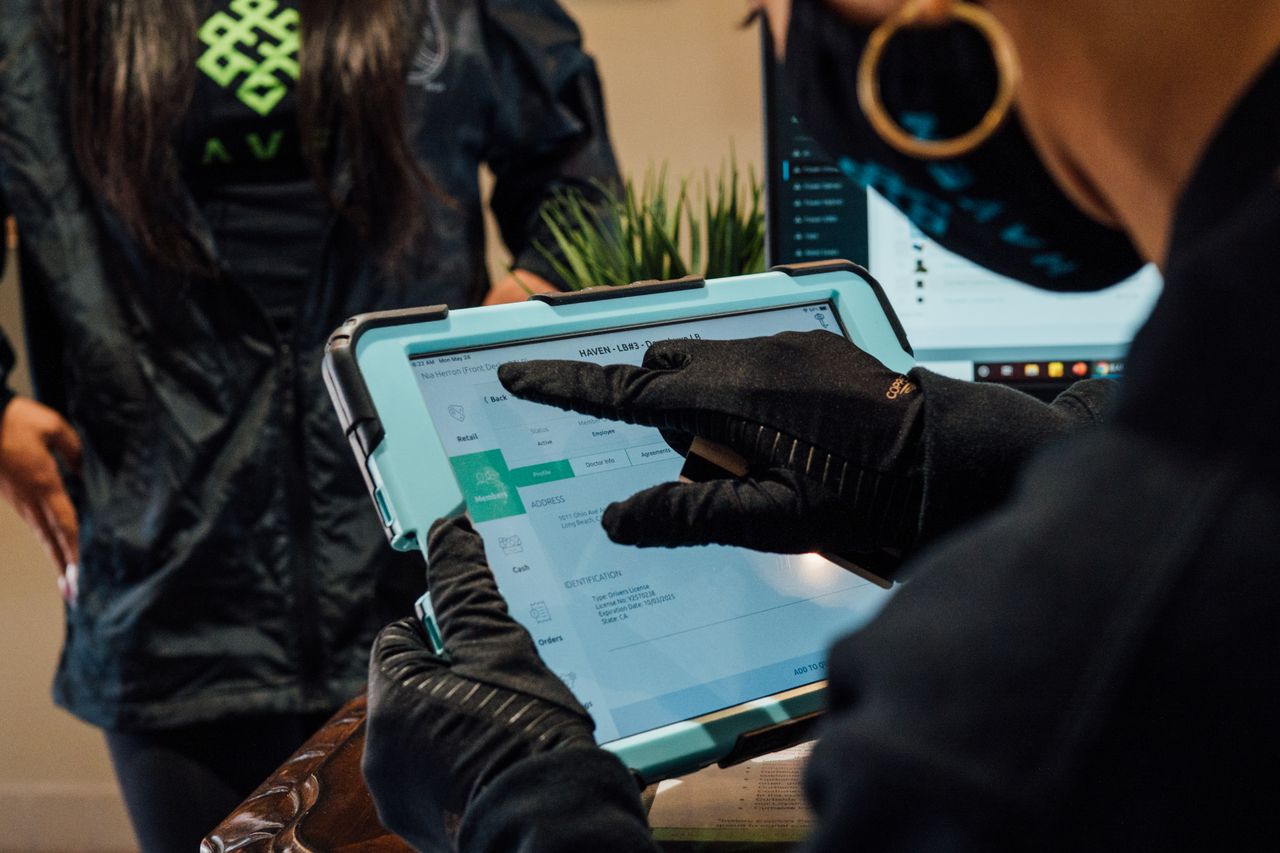 In 2023, we can expect to see cannabis sales continue to increase nationwide and more states approve recreational sales. This means the opportunity for both old and new dispensaries has never been greater. Your POS system must be capable of helping you scale your cannabis dispensary and handle the influx of customers. 
Ease of Use
With tech in general, things can get overly complicated fast if you're not properly trained. Your POS system is something that will be used all day, every day. Therefore, it has to be easy to use and free of confusing designs. A great POS system should have advanced features and functionality, but a fast learning curve. Your dispensary needs to hit the ground running from day one and an easy-to-use POS interface will help you do that.
Fast Training and Onboarding
Another benefit of an easy-to-use POS system is that training times can be dramatically reduced. The easier your POS is to pick up, the faster new employees can be onboarded and process sales. More so, your POS should have training programs and new user assistance so your staff can get up to speed faster.
Compliance in Point of Sale
Compliance is an integral part of the cannabis industry. The importance of compliance can't be stated enough when failing to meet compliance can result in fines, legal issues, and the closing down of your dispensary. Relying on manual entry compliance for your dispensary is a mistake and thankfully a thing of the past with integrated POS systems. Your POS should be fully integrated with your state's compliance system. This will reduce errors, increase efficiency, and streamline operations. 
POS systems like BLAZE Retail are fully integrated with compliance systems like Metrc and BioTrack. Our platform makes handling compliance easier than ever and reduces errors at the same time. Through BLAZE Retail, our system pushes all sales data in real time and creates transfer templates to save you time. The easy-to-use BLAZE POS interfaces also allow you to get your team up to speed on compliance handling quickly, giving them time to spend on the success of your store. 
Inventory Management for Your POS
Dispensaries carry a lot of products. This is especially the case for brands with multiple locations. Keeping track of all that inventory can be overwhelming. Your POS is here to help. Look for POS systems with robust inventory tracking and management. It should provide you visibility into your stock in real-time and assist in reordering.
Accurate Real-Time Data
Data is king. Knowing all of your data, such as sales numbers, transaction times, peak hours, etc, is crucial for growing your dispensary. Your POS must have in-depth data reporting and real-time accuracy. A great dispensary POS software will allow you to select the data points that are most important for your business at any given time and generate reports with all the relevant data. 
BLAZE Insights and Insights Advanced
BLAZE Insights and Insights Advanced are some of the most powerful insights and data management tools on the market. For all BLAZE users, our Insights software gives you powerful reporting and analytics tools all in one easy-to-use dashboard. This gives dispensary owners and operators the power to utilize their data to maximize profits, drive decisions, and edge out the competition.
Learn more about BLAZE Insights.
Multimodal Payment Systems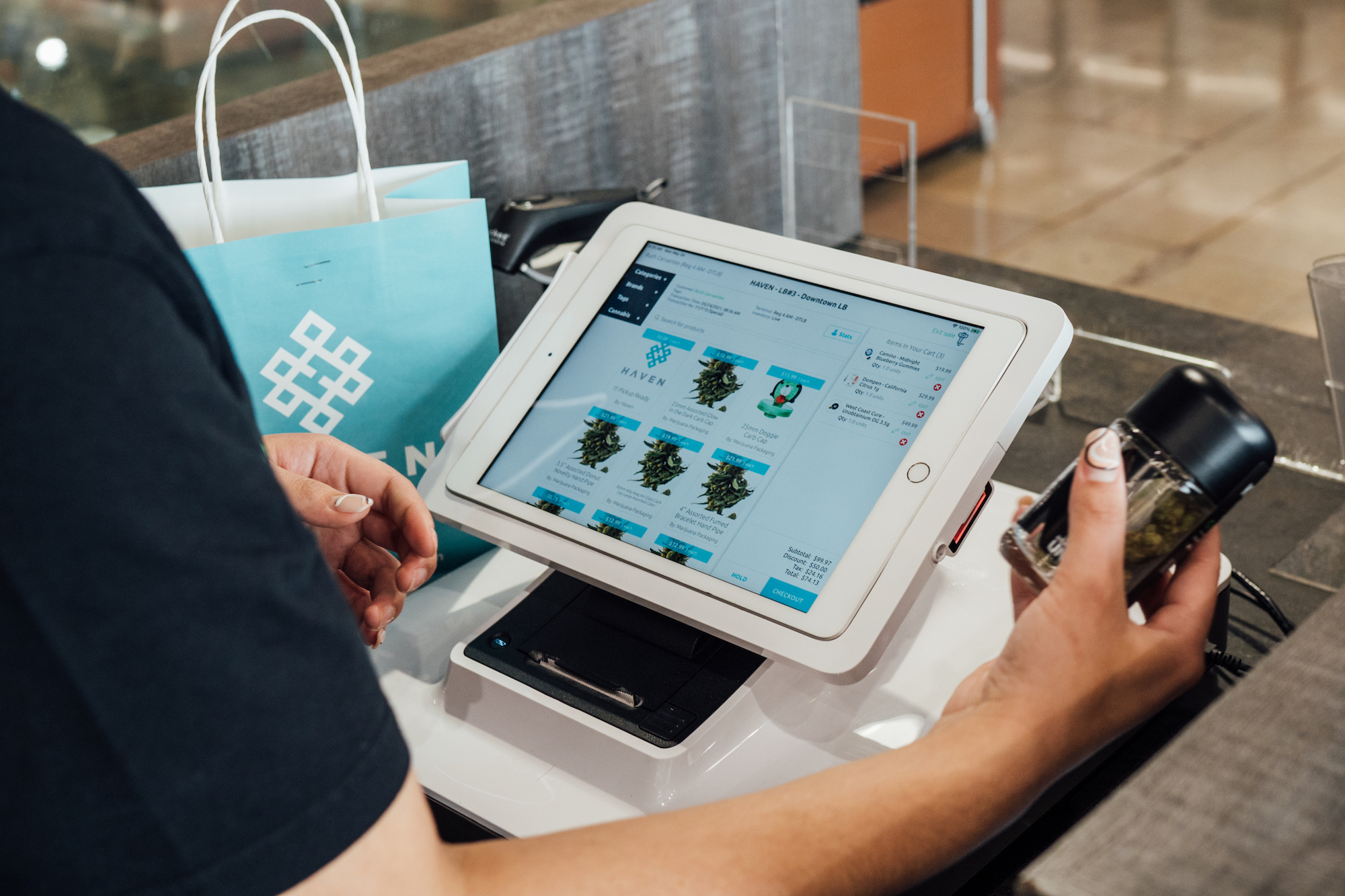 Payments in the cannabis world can be complicated. Unlike traditional businesses, the cannabis industry isn't federally legal and therefore cannot receive the benefits of traditional banking and credit cards. Therefore dispensaries have to rely on other means of payment processing. Some of these payment solutions are cashless ATM, pin debit, ACH, and BLAZEPAY (for BLAZE customers). If you want to learn more about these different payment systems and which ones are best for your dispensary check out our article here.
When choosing your POS, you'll need to research which of these payment systems the POS supports. The more payment systems and the deeper the integrations, the more effective your POS system will be at servicing your customers. Each customer will have their preferences when it comes to payments and having more options for them means increased sales and shopper loyalty.
BLAZEPAY
Fully integrated payment platform that increases average cart sizes, eliminates manual entry errors, and allows for budtender tipping all while ensuring the merchant gets paid on time, all the time. BLAZEPAY is available for all merchants that have access to a bank account. BLAZEPAY works for Retail Storefronts as well as Retail Delivery. 
BLAZEPAY Features
Increase basket size by an average of 25%
Manage BLAZEPAY from your mobile devices
Reconcile payments fast
Utilize multiple processors to ensure high availability for payment processing
Cash drawer integration
Budtender tipping
Marketing Features
There are many marketing features that dispensaries might benefit from. Some of these are SMS texting and running promotions. Texting can alert customers to new products or discounts and promotions will drive repeat business and help you push stock. Having a POS system that can implement marketing features and run promotions will boost sales and make a huge impact on the success of discounts, holiday sales, and events. 
BLAZE offers SMS texting and other marketing reward platforms through our many integrations. We partner with leaders in the field like springbig, to bring our customers powerful SMS and marketing tools to their dispensaries. 
Delivery for Your Dispensary POS
Cannabis consumers across the country are demanding their products wherever they are. Long gone are the days of relying on customers to make all of their purchases at your brick and mortar. Delivery is fast becoming a huge share of the cannabis marketplace. When choosing your POS, look for one with delivery features as part of its system. These features should give you the ability to improve delivery routes, and operate more efficiently, all while staying compliant.
BLAZE Delivery
BLAZE Delivery was built by cannabis delivery operators and business owners who wanted to build software solutions that would scale their operations. Our software offers a host of features designed to optimize driver routes, minimize costs, and maximize profits. We bring powerful integrations and reliable software all while ensuring your drivers and your business stay compliant. Here are a few of the features that make BLAZE Delivery an Industry-leader:
Support both scheduled deliveries AND on-demand deliveries.
Quickly, transfer to vehicles and control your inventory at Dispatch.
Dedicated BLAZE® Delivery App for iOS and Android.
Dynamic Delivery: Customers can browse nearby inventory from your menu.
Master compliance with our signature capture and ID verification flow.
Provide full driver manifest and Inventory ledgers in real-time.
Dedicated Dispatch panel provides a central place for all delivery operations.
Integrations for high-volume route optimization.
Integrations for your POS System
As we've mentioned before, integrations are an important part of your POS system. That being said, many POS systems forgo integrations and try to build out all the features themselves. This often results in a suite of half-baked products and features that never really give your dispensary what it needs. A great POS system recognizes that it is stronger when it integrates with other industry-leading software. A deeper tech stack of integrations will better serve your dispensary. Look for POS systems with integrations that cover everything from compliance and operations, to e-commerce and marketing.
BLAZE Retail Dispensary POS has a host of industry-leading integrations. With BLAZE, building the ultimate tech stack is easier than ever. We have integrations with cannabis software leaders like Weedmaps, springbig, Stronghold, and many more. No matter what your store needs, we have software solutions. Check out the full list of our partners.
Loyalty and Customer Experience Features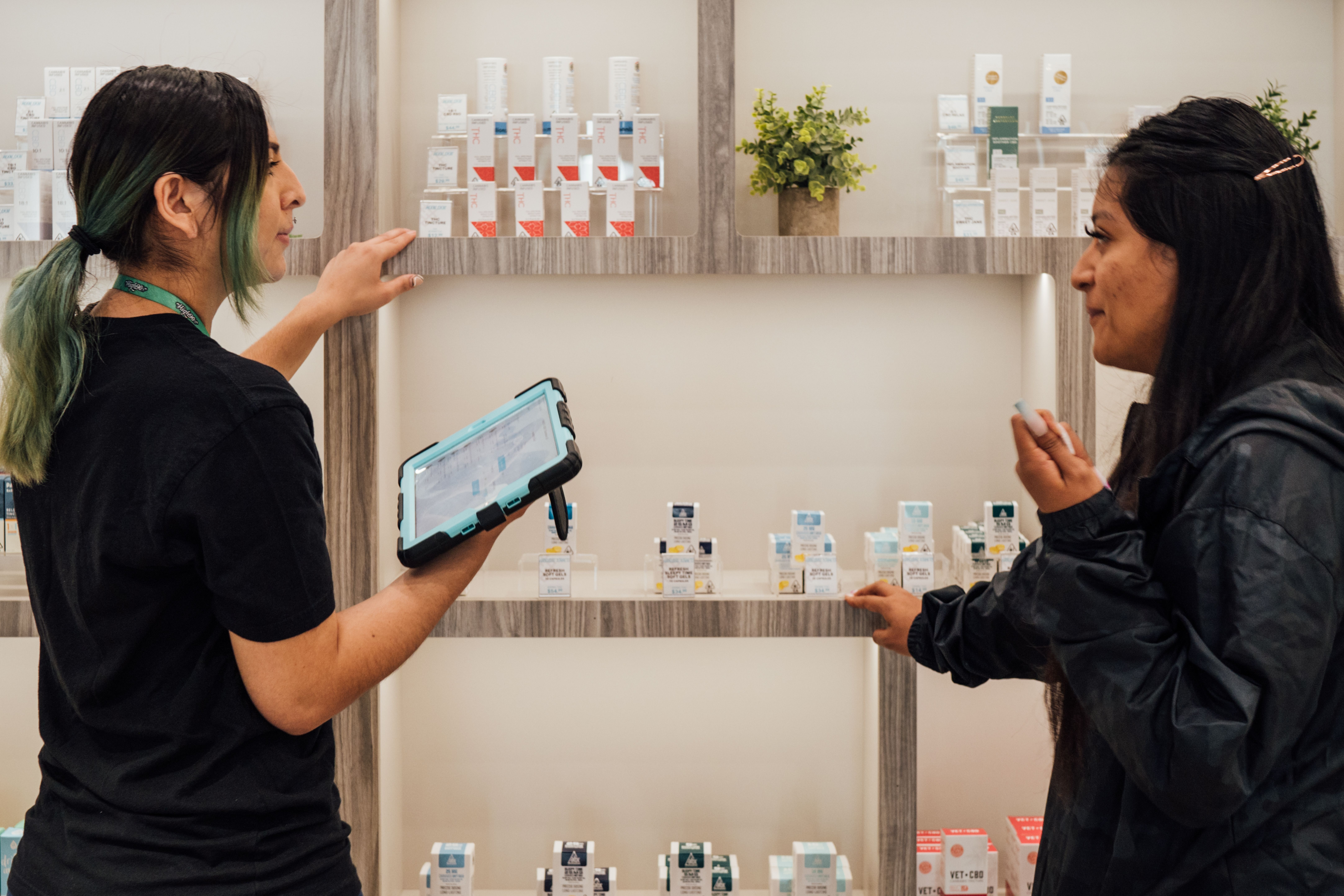 Driving customers to your store is hard enough, but bringing them back to your store is a challenge in and of itself. Repeat customers are a huge driver of your dispensary's longevity. Nurturing repeat customers and building customer loyalty takes strategy and a POS system that can help. Search for POS systems that have loyalty and customer experience features built into them. 
BLAZE has integrations with several marketing/loyalty systems and some are built right into our POS. With BLAZE Retail, you'll be able to craft loyalty benefits and promotions for your best customers and tailor your discount specifically to their shopping habits. Our dispensary POS supports loyalty programs through a points-based system that you can create right in your BLAZE Retail app. From there, loyalty points can be redeemed in the form of coupons or discounts based on how much customers are spending. These programs are a great way to reward frequent customers and incentive repeat purchases.
Customer Service
Customer service is where many POS systems fall short. Working with your POS is a daily task and issues will inevitably arise. Having reliable customer service and a dedicated team ready to assist your business is an important factor in choosing a dispensary POS. 
Take some time before you decide on your POS to look at their customer service ratings and testimonials. These can give you some insights into what you can expect from their team, especially after onboarding is completed.
An Ever-Adapting POS System
The cannabis market is always changing and the needs of POS systems are always adapting. Unfortunately, many dispensary POS systems are slow to adapt to the needs of their customers. When choosing your POS, ask what their recent tech advancements are. A POS worth choosing will consistently make improvements to its software and add new features. 
BLAZE POS
BLAZE Retail Dispensary POS was built for budtenders, operators, and dispensary owners by experts in the industry. Our software is designed to improve operational efficiency across your dispensary, resulting in more productive staff, increased sales, and scalability for your business. We bring industry-leading tech and integrations to the table and provide best-in-class onboarding and customer service. Our customers love what BLAZE brings to their dispensary and we know your business can benefit from it as well. 
Why BLAZE Retail?
Designed by operators for operators
Built to scale your business
Perfect for single storefronts or multi-locations
We're serious about security SOC 1 and 2 
Unparalleled Customer Support
Over 60 software integrations
Some of BLAZE Retail's Powerful Features
Real-time Metrc and BioTrack traceability integrations
Scan ID to auto-fill new customer profiles
Create member groups for personalized discounts
Quick and painless inventory auditing
Train your dispensary staff in hours
Learn more about our BLAZE Retail features.
Conclusion
Choosing the right POS system for your dispensary is an important decision and not one to be taken lightly. Take the time and research the many POS systems available. Look for the features that matter to your business and how well-received the platform is from other dispensaries. The perfect POS will make all the difference in the success of your dispensary so choose wisely. If you're interested in learning more about why BLAZE Retail is one of the leading POS systems on the market, book a demo with our team and see our powerful software in action!