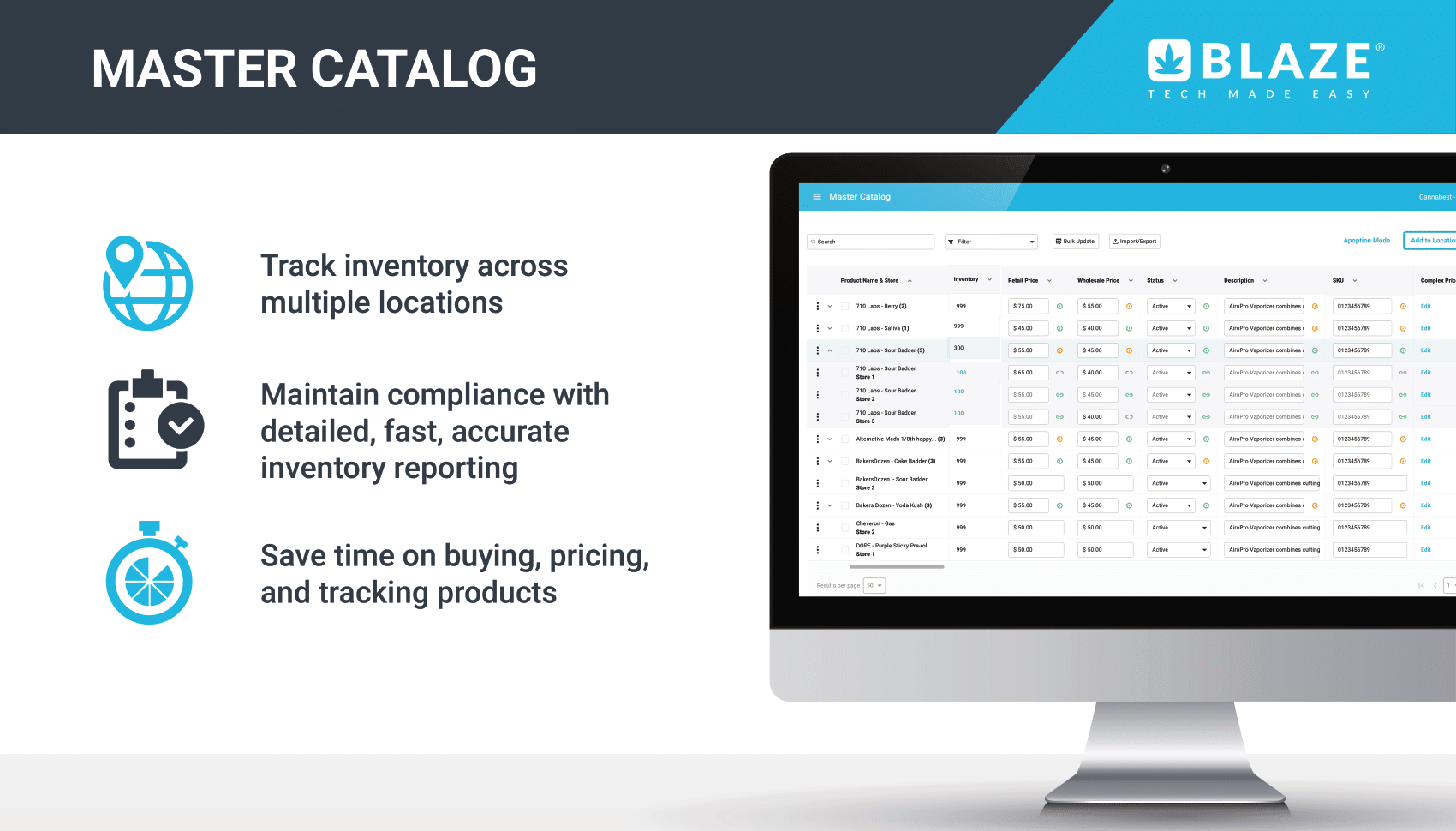 As cannabis dispensaries scale, they can find it increasingly difficult to manage an ever-growing catalog of products. Most cannabis software fails to implement features to remedy inventory pains. This leaves staff searching through endless pages to find certain products and creates confusion in determining which items are doing well or need reordering. It also makes reporting a nightmare for multi-location operations who have the same product spelled multiple ways. With that in mind, our team developed the BLAZE Master Product Catalog and Master Category Catalog. 
The Master Catalog feature is ready for release to all BLAZE® customers! This new feature will help you keep your product and category data organized, keep on top of your inventory on hand and sell through rates, and create a single source of truth for your operation. 
Master Categories
Master Categories provide for a top-down method of organization that will maintain consistent inventory control. This will allow for quick edits and updates to your categories from a single location for all data points. Categories can be customized to match your needs and can be as specific as you need or want to make them. There are several sections to guide you through creating and working with Master Categories. 
Master Product Catalog
The BLAZE Master Product Catalog allows your organization to easily manage a large catalog of products from seed to sale. The Master Product Catalog allows quick edits and updates to your products from a single location for data points such as product descriptions, images, pricing, and more. 
The Master Product Catalog makes handling every aspect of your inventory easier, saving you time to focus on running your business. Your dashboard is your single source of changes for all of your products. Change the prices of a product at multiple stores globally or make them uniquely priced. You can see the amount of the product on hand in the Master Product Catalog and also see sell-through rates.
With the BLAZE Master Product Catalog, it is easy to standardize your operations.
Create your Parent Categories & Products
Under your parents will live the children. You can adopt orphaned categories and products into their parents.
Manage your Inventory
Setting the price or any other attribute of the parent sets the price or any other attribute of the children globally. Even across multiple stores! If you would like to have different pricing for each child product simply change them inside of the Master Product Catalog dashboard.
Keep Inventory Integrity
See your inventory at each store and sell-through rates. 
BLAZE is continuing to update and improve our programs. Expect to see new features, improvements, and updates in the coming months. If you'd like to see our Master Catalogs in action, please book a demo with our team. We'll be happy to show you all the exciting features it has to offer and how your business can benefit from adopting BLAZE Master Catalogs.