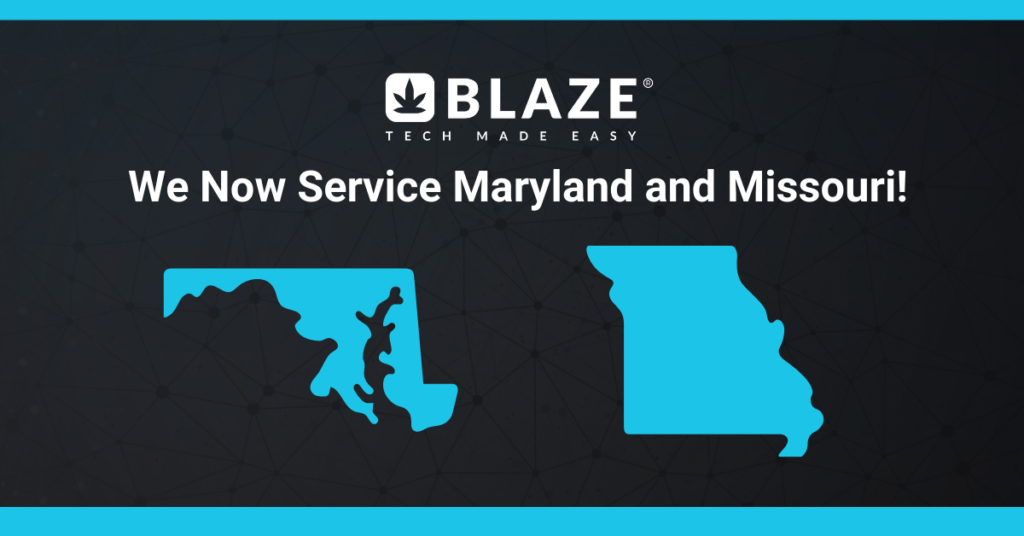 Cannabis operations are coming to life all across the country. Some of the newest hot spots are Maryland and Missouri. While recreational weed isn't legal until the end of the year, the time is fast approaching. As businesses gear up to open their doors to recreational customers and expect to see a boost in sales, they need to be fully prepared. BLAZE is here to help!
Is Cannabis Legal in Maryland?
Yes. Maryland has resoundly voted yes on recreational cannabis sales. Adult-use sales are set to begin in November of 2022. That means it's time to get the ball rolling on setting up your cannabis operations. The first step will always be applying for licenses and submitting your business and cannabis sales applications. You can find more information here at Maryland Medical Cannabis Commission. 
Is Cannabis Legal in Missouri?
Medical cannabis is legal, but recreational has not yet been approved.. Missouri has garnered enough signatures to finally put recreational marijuana on the ballot this November. While cannabis progress has been halted before, we're optimistic that the ballot measure will pass. Once it does, be sure that you're ready to take advantage of the opportunity. 
The DHSS has set the number of licenses at 60 cultivation facilities, 192 dispensaries, 86 medical marijuana-infused manufacturing facilities and 10 testing laboratory facilities so new licensing may not be available. 
How to Get a Cannabis Dispensary Started in Maryland or Missouri 
We'll dive into everything it takes to set up your Maryland and Missouri cannabis operations in a future post, but for now we'll give you a couple of things to consider.
Costs
Whether you're a dispensary, delivery service, or grower, you'll need to account for licensing costs, personnel, brick and mortar, marketing, and legal costs. For example, the average dispensary can cost upwards of a million dollars to open.
Security
The security of your business is hugely important. Cannabis businesses are often subject to higher instances of robbery and theft. You'll need to dedicate time and money into setting up a proper security system and protocols. This protects your business from both external and internal theft. That means security guards and cameras, knowing when doors should be locked, and having a safe place to store money and products.
Compliance
Being in compliance with your state, county, and local is crucial for your operations. Failing to comply with these laws can result in fines, closure, and criminal charges. Learn the laws specific for your sector of the industry and invest in software systems that support your state mandated compliance software.
Technology
All cannabis operations need high-quality software and tech to run efficiently. For dispensaries, that means a POS (point of sale) system and a strong tech stack for things like customer loyalty, marketing, and design. Additionally, delivery services and cultivation operations will need their own specific software. Take your time in choosing the right one. If you need more information on what to look for, check out our post on 11 things to look for when choosing your dispensary software.
BLAZE Software 
BLAZE was found in 2017 by cannabis insiders looking to create better software for the professionals in our field. We took the time to listen to operators, budtenders, and business owners about what was missing in their current software. With that knowledge in hand, we got to work building software like our industry-leading BLAZE POS (point of sale) software to meet the needs of cannabis dispensaries small and large. From there, we created software to meet every need in the industry. Whether you're a delivery service, cultivator, or distributor, we have software specifically created for your operational needs. 
BLAZE Compliance
BLAZE is here to make sure your compliance needs are met. We are fully integrated with Mectrc, making us compliant with both Maryland and Missouri's track and trace systems. Our system makes compliance easier for you and your team, preventing mistakes and speeding up time spent on reporting.
BLAZE and Your Business
BLAZE is excited to be a part of the burgeoning cannabis market in Maryland and Missouri. We'll be releasing more specific information about operating your cannabis business in these states in the coming months. For now, we're happy to answer any questions about what BLAZE can do to empower your operations and how we'll be integrating into the cannabis market. Don't hesitate to give us a call or book a demo. We're looking forward to meeting you and getting started!