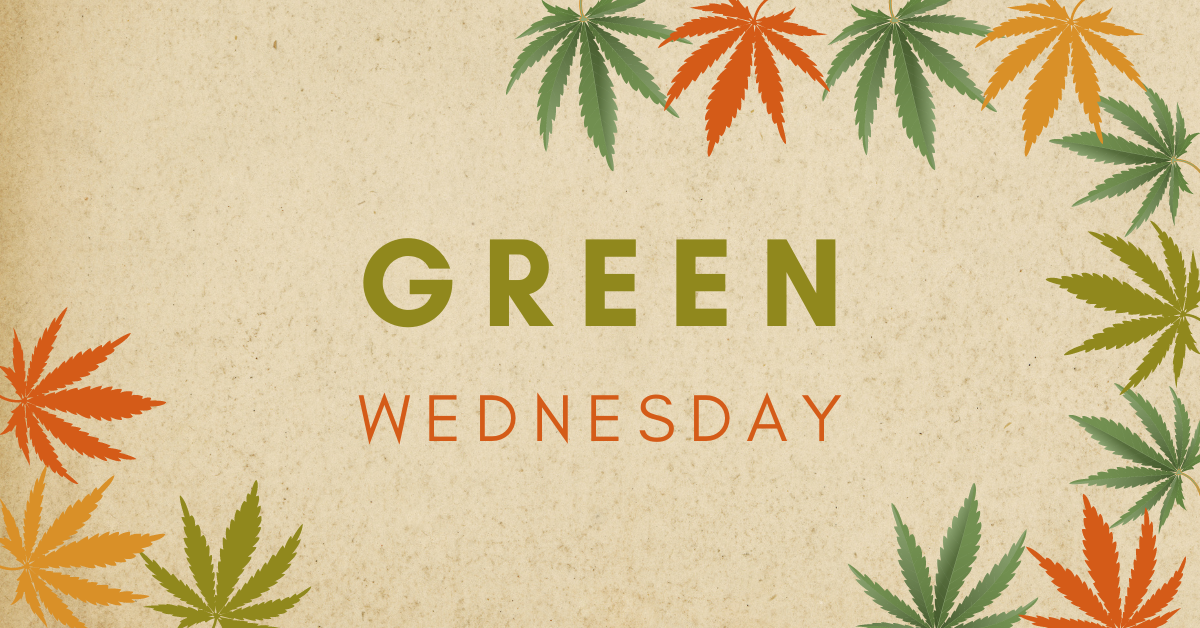 Green Wednesday is fast approaching and we're here to make sure your store is ready for the pre-Thanksgiving crowds. We'll dive into what Green Wednesday is and why it's a great chance to increase your profits and earn new customers. 
What is Green Wednesday
Green Wednesday is the cannabis world's Black Friday. Before a heavy Thanksgiving meal, data shows that customers hit their dispensaries in record numbers. Just like Black Friday, Green Wednesday is an ideal day to run promotions and discounts to bring customers through the door. It's also a great way to push marketing and advertising to new potential customers. 
How to Prepare for Green Wednesday
The success or failure of your Green Wednesday depends on how well your dispensary is prepared to meet the challenges that the holiday can bring. Just like other cannabis holidays like 4/20 and 7/10, Green Wednesday can put stress on any store. Take the time to plan how your store will handle the crowds and implement strategies that have worked in the past.
For some extra help, our BLAZE holiday pro tips cover some important things to prepare.
BLAZE Holiday Pro Tips
Call in extra staff. Dispensaries can get slammed on Green Wednesday and the last thing you want is your store to be understaffed.
Promote underselling products and products close to their expiry date.
Review previous holiday and Green Wednesday data to prepare for what to expect as far as customer traffic, sales data, and operating problems.
Green Wednesday Delivery
Delivery is fast becoming a popular way to get cannabis brought right to customers' doors. Green Wednesday is no exception. Prepare your delivery team and set your parameters before the big day. Once your drivers are on the road, it'll be harder to implement plans in real time. 
BLAZE and Green Wednesday
Every dispensary needs reliable cannabis tech for the big day. BLAZE is the answer. Our industry-leading BLAZE Retail and Delivery systems are built by cannabis operators for cannabis operators. We understand your store's needs and how to ensure your dispensary is ready for the next level. With best-in-class integrations and a professional support team on-call, make BLAZE the software you trust for your Green Wednesday. 
BLAZE Holiday Checklist
For our current BLAZE customers we've put together a handy holiday checklist to make sure your store has checked off all its boxes for the holiday.
Keep track of every iPad and smartphone that might be used over Green Wednesday and ensure the applications (BLAZE Retail or Delivery) are updated to the newest version. Updating devices last minute could cause added stress and errors while updates are downloaded.
After updating your application, please log into your store so it can sync down all current data. 
Ensure all your terminals are configured properly in BLAZE and the hardware is tested and ready for use.
Make sure you have extra receipt paper and that all your products have barcodes.
Market your promotions early via text messaging, on receipts, in-store and online. 
Make sure to place inventory orders well in advance to restock popular products, and allow time for shipment.
Run an audit on your inventory to ensure it's up to date and organized. 
Set up your promotions ahead of time and TEST them.
Check your online listings to make sure they're up-to-date
Ensure all staff are updated on the latest improvements to BLAZE Retail and Delivery
Conclusion
Green Wednesday is a great opportunity for dispensaries to cash in on one of cannabis' biggest holidays. Taking steps to plan and prepare your store will equate in real sales and smoother operations. Here at BLAZE, we are happy to be the partner that dispensaries across the country trust to ensure their holidays are met with success. If you're in the market for the best cannabis tech on the market, then don't hesitate to book a demo with our team and let's get started!