When choosing a cannabis e-commerce solution it's important to go with a provider that allows you to maintain control over your branding and website data. When you use a marketplace or iFrame provider, you're essentially giving them all of your domain authority, SEO, and data. This can be a major problem if you want to maintain control over your brand and website. It also stifles your ability to run effective marketing campaigns with no real way to assess your ROI.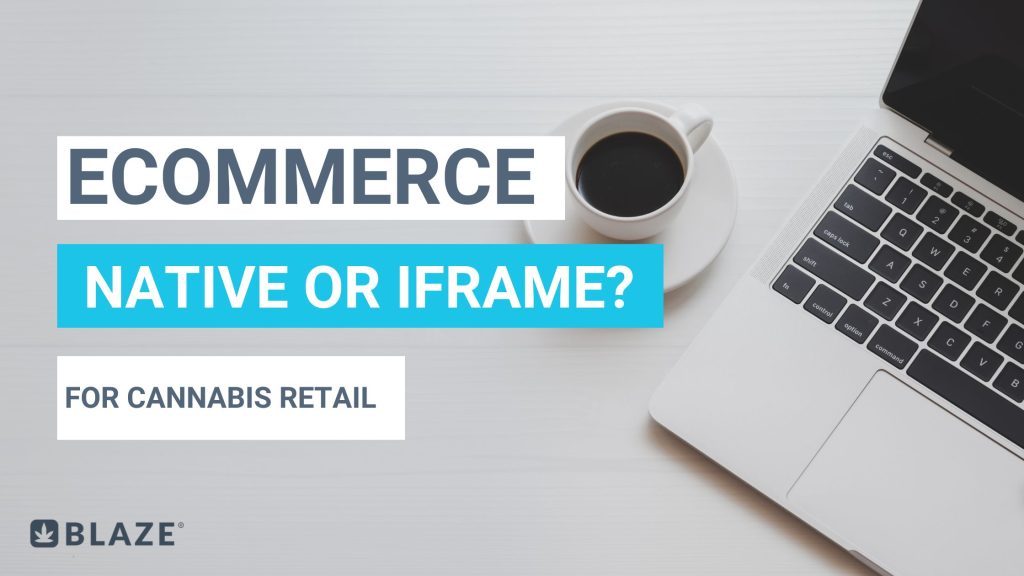 Challenges with iFrame E-Commerce
Another problem with using different back offices is that it can lead to a major increase in dual entry and API errors. You'll need to manage things like taxes, product info, loyalty, test results, and discounts on two different platforms. This can be a major headache and lead to a lot of mistakes. It also requires a lot of staff hours to maintain this convoluted SOP.
One of the main frustrations with iframe cannabis e-commerce is that it is completely invisible to Google. Search engines are not able to read the contents of your menu which means you're missing out on a lot of organic traffic. Cannabis brand, product, and category keywords have a significant amount of organic search volume that is being directed to e-commerce sites that have unique URLS, product/brand/category descriptions and product photos with detailed metadata. 
iFrame and directory sites can also drive customers to other retail locations. This is because most cannabis e-commerce stores tend to look the same, which making it almost impossible for retailers to differentiate themselves. Unless you've created considerable affinity with your customers they may not be able to tell your store apart from the competition.
There is often a lack of customization. This means that you won't be able to make your site look the way you want it to or add any unique features that enforce your branding.
Finally, most cannabis e-commerce solutions don't offer the opportunity for a branded mobile app. This is a major problem if you want to provide your customers with a seamless shopping experience across all devices.
Pros and Cons of iFrame E-Commerce
The main pro to iFrame technology is that it is fairly cost effective for new retailers. Additionally, the iFrame provider is responsible for updating the software, however this does leave retailers susceptible to the quality of the update for better or worse. From a security perspective, all the customer data is stored with the provider so the liability is on them in the event of a breach.
These subtle benefits don't outweigh the cons of iframe cannabis e-commerce. 
Google not able to crawl iFrame menus

Minimal branding to enforce recognition to your customers

Can't behave like native web content

Very hard to make an iFrame mobile responsive

Complex technology means you'll need to trust the customer support of your provider for minor changes.
Native E-Commerce Wins with SEO, Branding, and Data
Owning your analytics and SEO is paramount to succeeding in cannabis retail for the long run. Letting iFrame marketplaces benefit from your data and keep you from tracking ROI on your marketing efforts will leave your data forecasting cloudy with a chance of rain. 
Everything about your store, products, prices and more can be crawled on a Native menu. When people search for a strain name, or the closest dispensary to them, a native menu will ensure those search queries point to you. 
While it is true that Native takes some time to build and customize, that's generally for your long-term benefit. While updating and maintaining your native cannabis e-commerce website will ultimately be up to you and your staff, designing it well from the ground up and creating a process tailored to your workflow.
Cons for Native e-commerce, like BLAZE ECOM are mainly about cost. However, we offer a cannabis e-commerce platform that is seamlessly integrated with our POS system and have built an ecosystem that helps retailers thrive. BLAZE ECOM offers all the benefits of native e-commerce but is priced on par with the limited iFrame solutions available on the market. The benefits of using an integrated solution are bountiful.
Improve efficiency

: Integrated e-commerce solutions help businesses become more efficient by automating tasks such as order processing and real-time menu syncing. This frees up staff time to focus on other areas of the business.

Increase accuracy:

Cannabis businesses can improve accuracy by reducing the risk of errors in data entry and processing. This improves customer satisfaction and reduce the risk of compliance violations.

Better customer experience:

 An integrated e-commerce solutions provides a better customer experience by offering a seamless shopping and checkout experience across all channels. The ability to prepay for orders and checkout in just 3-clicks increases customer loyalty.

Reduce costs:

Cannabis retailers can reduce costs by eliminating the need for multiple systems and applications. This can save businesses money on setup fees, maintenance costs, and staff training.

More Discoverability:

Search engine traffic is becoming a leader in bringing online sales to a retailer's shop. Having your online store rank high on Google is important. 

Better Compliance:

Marketplace solutions in cannabis are missing the mark on compliance. From calculating taxes to state-specific regulatory changes you risk your license if your online sales aren't following regulations.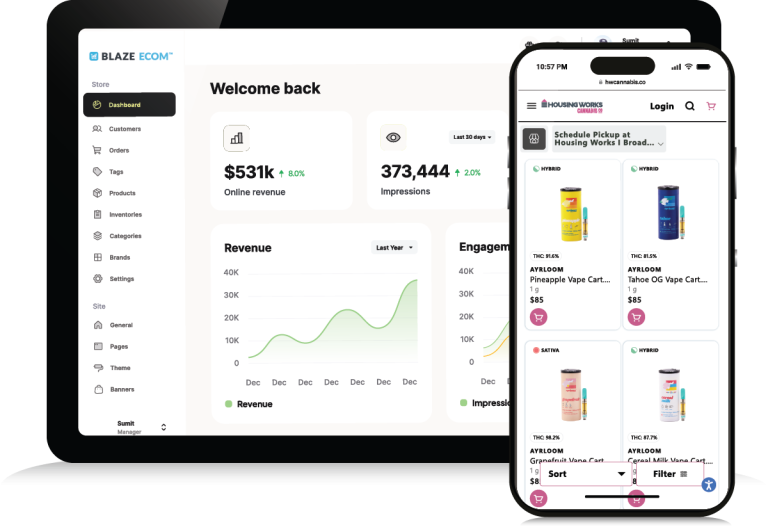 Think about all of the features you need now and those you will need in the future. Where do you want your online sales to be in the next five years? Make a list and choose a cannabis e-commerce solution that allows you to maintain control over your branding and website data while helping you grow to your goals. This will help you stand out from the competition and ensure that your customers have a seamless shopping experience.
Cannabis E-commerce Shopping Checklist:
Provides ownership of site and customer data

Able to index all product, brand, and category pages 

Offer SEO benefits and builds your site authority

Able to create a branded e-commerce experience

Syncs all product info, taxes, discounts, loyalty and test results directly in your POS, eliminating all dual entry

Integrated prepayment solution that allows online shoppers to link their preferred bank account and set it as the default payment method

Optional add-on for a native e-commerce mobile app for dispensaries
BLAZE ECOM does all of this and more. Book a meeting on our ECOM Expert Dan's calendar to learn more.